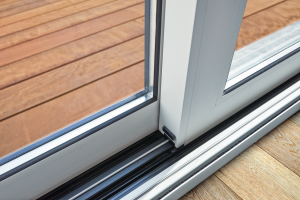 Patio doors are a great addition to any home. They provide a wonderful view into your backyard, letting in sunlight in the morning, and allowing you to fully enjoy yourself after a full day of work. Usually comprised of sliding glass panels, these patio doors are a very large "window" that seamlessly integrates the outdoor area into your living space. But that's not all. Here are some of the benefits that you can expect when installing sliding glass doors for your patio entryway:
Higher Energy Efficiency
Sliding glass doors are generally designed to be more energy efficient than regular doors. They can be made out of double pane glass to minimize heat loss, and there are plenty of options to increase the insulation from there. You can go with even additional panes, argon gas windows, and coating/glazing. For the higher priced options, you can opt for patio doors that block UV rays, reduce noise pollution, and reduce frost condensation, while having a high R-value.
Easy Access
Sliding glass doors are quite large, and they allow traffic to flow more easily in and out of the home. This makes family get-togethers a lot more fun, and it also makes it easier to move large pieces of furniture into or out of the house. A set of sliding doors can be almost twice as wide as a regular door. For very wide openings, you can install sliding doors with more than two panels, allowing you to cover any size opening, regardless of its width.
Security
These doors also tend to be very secure. They cannot be removed from their track by a person on the outside due to its structure. There are also a variety of locking arrangements at your disposal—from multi-point locks that secure both the top and bottom of the door and which improve insulation, to folding security bars, which are mounted on the fixed side of the frame and swing down and across the door, locking it into position.
More Natural Light in the Home
With large glass panes, you will get a ton of sunlight into the home. If you have a beautiful backyard, you can also add the view to the list of benefits. On top of that, the light can actually convert into heat during the winter in colder climates. For warmer climates, the panes can be coated with an anti-UV film, which the heat-generating UV-light cannot pass through.
Style and Aesthetics
One of the main draws of sliding glass doors is their appearance and versatility. Not only are they quiet, but they come in several different styles, from multi-panel doors, to side lites and transoms. You also have the option of installing mini blinds between the panels so that you can control the amount of light that enters the home.
Adding Value to Your Home
One of the main reasons to invest in patio doors is that they increase the overall value of your home, so that when it comes time to sell, you can list it for a higher price. They may also add to the rental value of the property as well.
Want to find out more?
If you would like to install sliding glass doors in your home, or if you would like to find out more about our products and services, contact us today. We offer high-quality doors from many top brands such as Pella, Marvin, Sierra Pacific and Soft Lite, and you can pick from a variety of frame materials including wood and vinyl. Call or visit our showroom in Palatine to get started!