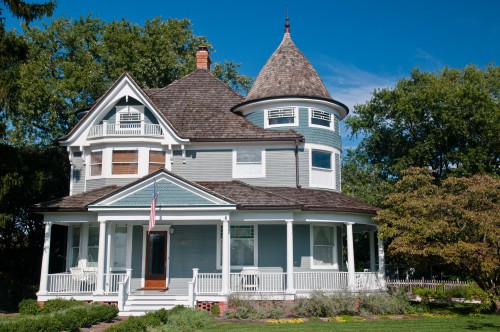 30 Sep

Best roof choices for historical homes

One of the charms of Palatine and other nearby areas is the wealth of historic and vintage homes. If you are lucky enough to own one, you understand the importance of keeping it in good repair while preserving its character. We work with owners of historic homes to identify and install the best roofing material for the job. Some of the most common choices for historic and vintage houses:
1. Wood shake.
Wooden shingles were a common roofing material when many of our area's historic homes were built. This can be a great choice for those who wish to preserve the original look and feel of their home. Cedar shake roofs are highly durable, offering around a decade of useful life over other some other roofing options. Cedar is environmentally friendly. It is made with a renewable resource and is easy to safely dispose of at the end of its useful life. We can help you understand the maintenance requirements of wood shake roofs to ensure that you get the best service from this warm and inviting material. 
2. Tile or slate.
These materials can last a century or more. They tend to be heavy and expensive, which means that they are not a choice for every type of home. We can discuss your options and help you balance cost and beauty.
3. Metal roofs.
Metal is a material that was used in some historical designs. It is not a good fit for every home or every homeowner, but offers a long useful life and aesthetic appeal. 
4. Composite roofs.
Many people are surprised to find composite roofing on a list of good materials for a historic home. Isn't composite a new material? While composite is a fairly recent invention, advances in technology mean that it is more versatile and appropriate for a range of homes than ever. Newer materials have been made that can mimic the look of more costly roofing styles such as slate or cedar shake. There are composite roofing shingles available in a range of styles and even in attractive geometric patterns. 
The various materials available offer differing price points, appearances, installation costs and maintenance needs. Each homeowner must decide individually which material works best for them and for their home. We have a range of samples available in our 17,000 foot design center so you can see the choices available up close. Get in touch today. Our roofing contractors can provide an estimate and explain which of the various options available are the best to keep your historic home sound and beautiful.