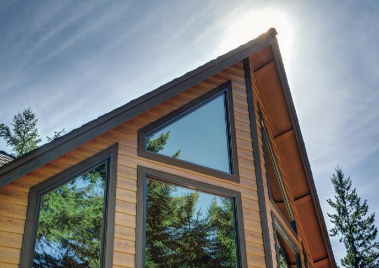 15 Jan

Exterior Home Remodeling in Schaumburg, Illinois

While the interior decor of your home is certainly important, it's not even close to as important as your home's exterior decor. Only a select few will ever see the inside of your home. But anyone who comes its way will see its exterior.

It's for this reason that you need to make the exterior of your home as aesthetically-pleasing as possible. Your home is, after all, a representation of who you are as a person. You don't want it to look sloppy and unkempt. 

Odds are, if you've made it to this page, it's because you're looking for exterior home remodeling in Schaumburg, Illinois. Well, fortunately for you, you've found it.

We here at Aspen Exterior Company are one of the premier exterior remodeling companies in and around Schaumburg. From our inception in 1978, we've made it our goal to create home exteriors which are not only functional, but beautiful.
Before Remodeling
The owners of this Schaumburg house recently hired us to make some modifications to the home's exterior. Work was done on its windows, siding, and roof. As you can see, there was some wear and tear dragging down the home's overall aesthetic.
After Remodeling
While the difference in the home's siding is most obvious, you can also see changes in the appearance of its windows. Changes to the roof were also made, but they're a little difficult to see through the snow.
What We Have to Offer
Windows
We offer two types of windows: wood and vinyl. Each of these windows types has its own aesthetic high points, and can go a long way in giving your home a unique and elegant look.
Our wood window frames are provided by several reputable companies, including Marvin, Pella, Hurd, Sierra Pacific, and Andersen. Working with so many companies allows us to find frames which are a perfect fit for your home.
Our vinyl windows come in a variety of different colors, and are designed to be as maintenance-free as possible.
Siding
Looking to accessorize your siding? Maybe you'd like to adorn your home with shutters or columns? Perhaps you're looking for entirely new siding altogether? In any case, we've got you covered.
We install siding of all kinds, from cedar siding, to vinyl siding, to fiber cement siding, and more Each and every type of siding we install comes in a variety of different colors, allowing you to choose one that best fits your home.
If need be, we can even help you choose the type of siding which would best suit your particular estate.
Roofing
If you're looking to protect and adorn your home with shingles, we here at Aspen Exterior have got you covered. We install shingles of all types, from modified asphalt shingles, to tile shingles, to wood shingles, and everything in between.
A home's exterior decor isn't complete without a beautiful roof. Not to mention, roofing provides much needed protection to your home which will help it thrive through weather conditions of all sorts.
Doors
It seems to be that people often underestimate the power of a good door. But the truth of the matter is that doors are just as important to the aesthetic and functionality of a home as anything else.
We here at Aspen are prepared to equip your home with a door that is beautiful, energy-saving, and solid as a rock.
We install doors of all types, from hardwood, to fiberglass, to steel. Whatever it is you're looking for, we can make it work.
Decks
Sometimes your home itself is not enough. You need add-ons. Extensions. Additional features. An add-on which can give your property an entirely different look is a deck.
Decks not only add an air of elegance to your home, they serve as functional and practical lounging spaces as well.
If it's a deck you're seeking, Aspen Exterior can give it to you. We'll customize your deck to fit your exact specifications, bringing an entirely new element to your home in the process.
The Finest Exterior Home Remodeling in Schaumburg, Illinois
If you're looking for a new door, new siding, new roofing, new windows, or any other component of exterior remodeling, you can get it from us here at Aspen Exterior Company. We are the premier provider of exterior home remodeling in Schaumburg, Illinois.
A certified, licensed, an award-winning company, we use only the highest quality of materials, and offer only the highest quality of service.
Contact us for a free quote today!