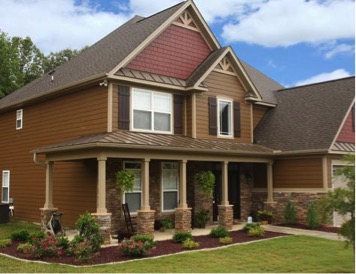 30 Jan

4 Benefits of Hiring a Home Exterior Remodeling Company

Maybe you're building a home from scratch and are getting ready to add exterior details? Perhaps you're looking to make exterior aesthetic updates to your existing home? In any case, you've got a lot of work and responsibility ahead of you.

That is, of course, unless you hire a home exterior remodeling company. Hiring a home exterior remodeling company will take most of the work off of your hands and ensure that you get the exact exterior that you're looking for.  

Wondering how exactly you can benefit from such a company? Let's get into it! 
1. Save Time
There is nothing quick about remodeling the exterior of your home. This is doubly true if you're trying to get the job done with just yourself and a few friends.
Whether you're putting new shingles on your house, installing new siding, putting in a new door or otherwise, your remodel is going to take, at the very least, a day to get done.
Wouldn't it be better to spend that time doing something else? After all, you've only got so much time outside of work and other responsibilities.
By hiring a home exterior remodeling company, you'll be putting the task almost entirely into someone else's hands. This means that you can relax and spend time on more fulfilling matters.
2. Save Money
While it may seem expensive to bring in an exterior remodeling company, the truth of the matter is that it's normally much less expensive than completing a task on your own.
When you try to complete the task on your own, you're on the hook for quite a few purchases. Tools, safety implements, and the materials themselves can be quite expensive. And if you don't know what you're doing, you can stand to waste quite a bit of valuable material.
Professional remodelers, on the other hand, already have these things in their arsenals. Not to mention, they have connections with the providers of the finest materials the world has to offer. They'll perform the task the right way initially, spending the least amount of money necessary.
3. Steer Clear of Injury
Completing exterior remodeling work involves working with your hands and body. Any time you perform extensive physical work with your body, you risk injury. This is especially true if you're not used to doing such work.
By putting the work into the hands of a professional company, you can avoid risking injury altogether.
Professionals are equipped with all of the safety implements needed to make it through a project unscathed. And if they do incur an injury? They'll be covered under the insurance which their company possesses.
4. Insured Work
Any exterior home remodeling company worth its salt will be properly insured and licensed. This insurance and licensing indicates a company that is ethical and prepared for anything.
Types of insurance that an exterior contractor should have are workers compensation, liability insurance, and property damage insurance. These three insurances combined will not only protect the workers themselves, but will also protect your property should any damage be done to it during the job.
In essence, as long as you're working with a legitimate company, you'll be receiving guaranteed work.
On the other hand, if you yourself damage your property, it will not be covered by insurance. You'll be on the hook for the entire cost of the damages.
Interested in Hiring a Home Exterior Remodeling Company in Hoffman Estates?
If you're interested in hiring a home exterior remodeling company in Chicagoland, Aspen Exterior is a company you need to consider. We're one of the premier exterior remodeling companies in northeastern Illinois.
Our team of workers includes everything from installers, to painters, to designers, all of whom possess years of experience in their profession. It's our goal to provide you with exactly what you're looking for.
Contact us today to get started!