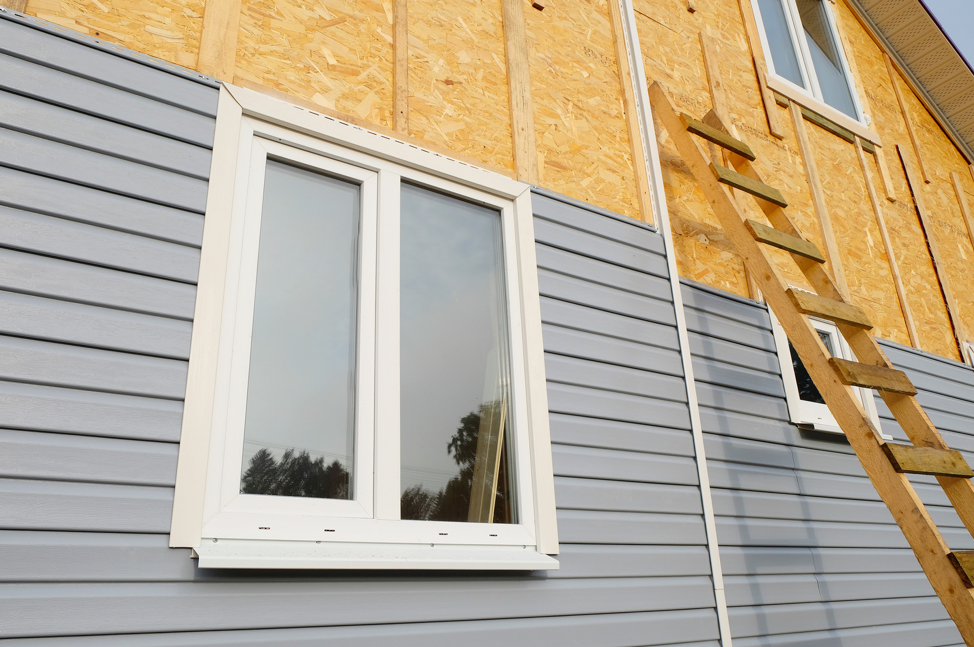 22 Aug

Siding Installation in Palatine, Illinois: Choosing a Material

Maybe you're building a house from scratch? Perhaps you're making some adjustments on your existing home? In any case, you're looking to have new siding installed in Palatine, Illinois.

The question you may be asking yourself, however, is, "what type of siding should I choose?" These days, the most popular types of siding include vinyl, fiber cement, and cedar. Questioning which type is best for you and your purposes? Read on to find out!
Vinyl
Pros
By far, the most popular type of siding in the world is vinyl. The reason for this popularity? Affordability. Whereas wood siding is typically around 5 dollars per square foot, vinyl siding is typically around 3 dollars per square foot. While there is some variation in price depending on the supplier, this is a fairly consistent rate.
Because vinyl is so affordable, you might assume that it's a cheaply made and ineffective material. In reality, vinyl siding is not only durable, it also offers good insulation quality. While it's not quite on the level of cedar or fiber cement, it will typically hold up for 20 years without much trouble.
Cons
Some people feel that vinyl siding lacks in style. While there are a number of different colors of vinyl siding available, it can't be painted like wood or fiber cement siding can. You're essentially going to be stuck with its original color.
Also, while it's durable and insulative, it's not as durable or as insulative as the other two options we'll review below.
Cedar
Pros
Cedar siding is expensive, but it's expensive for a reason. Not only does cedar siding possess a unique look, it also performs exceptionally well.
In addition to being extremely durable, it also offers superb insulation quality. In this regard, it excels over both vinyl and fiber cement.
Aesthetically, cedar siding is seen as a luxury siding. It is typically used by those with a bigger budget.
Cons
There are generally two major cons associated with cedar siding. One of these cons is that it is expensive, typically costing more than vinyl and fiber cement. The other of these cons is that they often require more maintenance.
Cedar siding maintenance not only requires regular staining, but also termite eradication, painting, and cleaning. If you would rather avoid maintenance altogether, it's wise to avoid cedar siding.
Fiber Cement
Pros
Fiber cement siding excels on a number of different fronts. If you're looking for great style at a reasonable price, it's the best option for you. While it's a little more expensive than vinyl, it's also a little less expensive than wood.
Like cedar siding, fiber cement siding can be painted any color that you desire. This allows for essentially endless aesthetic options.
In terms of durability, it's stronger than vinyl, but weaker than cedar, typically lasting for well over 20 years.
Cons
The primary problem with fiber cement is that it possesses, at best, average insulation quality. While it will reduce drafts, it may not eliminate them entirely. In this regard, it falls short of both cedar and vinyl.
Another con of this siding is that it can be high-maintenance. You'll typically need to recaulk and repaint it ever 3 to 5 years.
Professional Siding Installation in Palatine, Illinois
Have you made a decision? Need someone to help you install your new siding? Well, if you're looking for professional siding installation in Palatine, we here at Aspen Exterior Company are the people to call.
Our team of installers is well-versed in the installation of all three types of siding reviewed above. Regardless of whether you'd like cedar, fiber cement, or vinyl, we have you covered.
Contact us today get started!