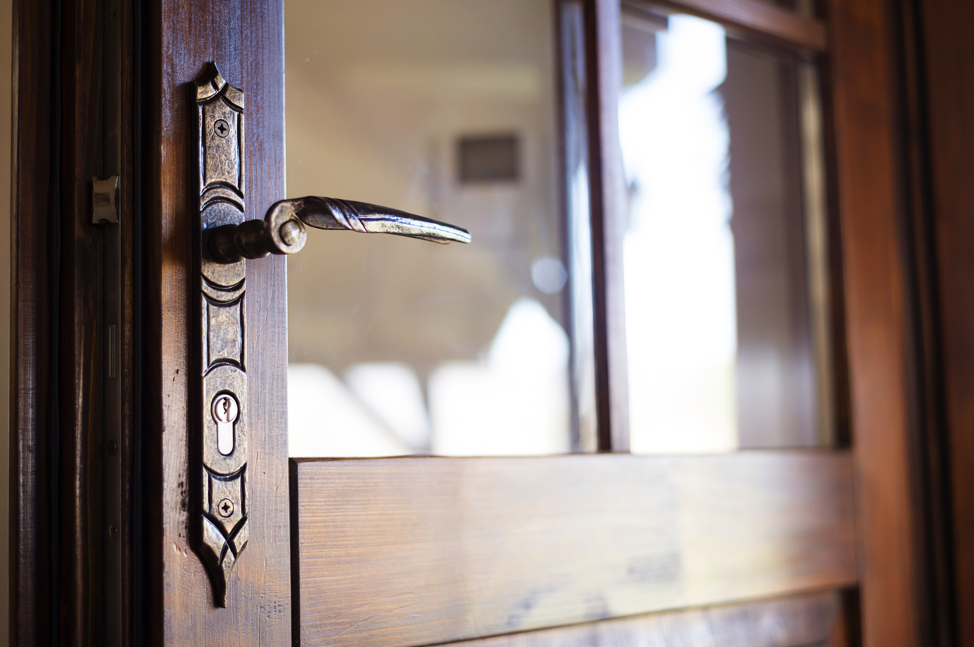 15 Oct

Choosing a Door in Arlington Heights: Fiberglass or Wood?

Are you building a new house in Arlington Heights, Illinois? Thinking about making some renovations to the house that you currently live in? If so, you're probably thinking about front door material.

Currently, the two most popular front door materials are fiberglass and wood. While either of these materials is capable of serving you well, they are actually — in terms of benefits and drawbacks — quite different.

Below, we will compare the upsides and downsides of both wood and fiberglass doors. This should help you to decide which type is best for you and your purposes.
Durability
When it comes to durability, fiberglass doors reign supreme over wood doors. Not only do fiberglass doors rarely suffer from cosmetic damage, they tend to last for several decades.
This isn't to say that wood doors lack durability entirely. If you take care of them, you can expect to get about 20 years of top-notch use out of them. However, be warned, wood doors usually require more maintenance.
Energy Efficiency
Though both fiberglass and wood doors provide great insulation, fiberglass doors provide much better insulation than wood doors. In fact, some fiberglass doors provide 5 times the insulation of wood doors.
While fiberglass doors are expensive initially, their ability to conserve energy over time makes them worth the investment. 
Damage Resistance
As noted above, fiberglass doors very rarely display cosmetic damage. They don't peel, crack, or scratch on a regular basis.
Wood doors, on the other hand, are much more prone to cosmetic damage. They will crack, peel, chip, and scratch. This is particularly true if you don't take proper care of them.
Aesthetics
In terms of aesthetics, fiberglass and wood doors are very similar. Both of these doors are capable of being aesthetically gorgeous, and can add a touch of elegance and class to your entry way.
Both fiberglass and wood doors can be shaped and manipulated in a variety of different forms. When it comes to these substances, there is no shortage of styles for you to choose. Not to mention, both substances are capable of being painted, allowing for endless color options.
Maintenance
When it comes to maintenance, fiberglass doors outlast wood doors. At a minimum, all you have to do with fiberglass doors is clean them on a regular basis. If you choose, you can stain them. This should help protect them from the elements, allowing them to last even longer. However, staining is not a necessity.
With wood doors, staining is always necessary. If you don't stain a wood door, it will become waterlogged, and will wear out prematurely. It may require some patching up as well.
Cost
In terms of cost, wood doors are more affordable than fiberglass doors. However, this doesn't necessarily mean that buying a fiberglass door would be a bad purchase. Because of the extreme energy efficiency, durability, and functionality of fiberglass doors, they are well worth their price tag.
While you may pay more upfront for a fiberglass door, you will pay less over time. You'll save this money in the form of lower energy bills and lower maintenance costs.
In Need of Door Installation in Arlington Heights, Illinois?
Have you made a choice between fiberglass and wood? In need of door installation in Arlington Heights, Illinois? If so, Aspen Exterior Company is the company to see.
In business since 1978, we have installed a wide variety of doors throughout the Arlington Heights area. Our team of highly-skilled installation specialists looks forward to working with you.
Contact us today to start the installation process!