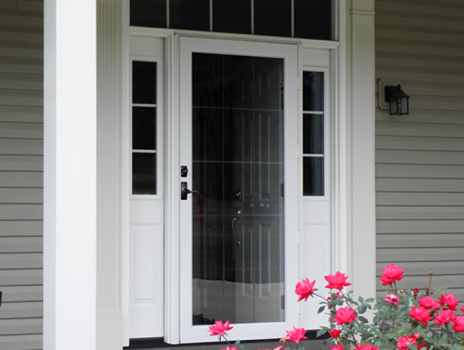 07 Nov

Should You Install a Storm Door This Fall? A Palatine Home Remodeling Company Weighs In

Looking to enhance the aesthetic of your home? Hoping to offer some protection to your front door? If so, you might consider installing a storm door.

Storm doors offer a number of benefits, and they are fairly common among Palatine homeowners. Wondering whether you should install one on your home? This article should help you make an informed decision.
In What Ways are Storm Doors Beneficial?
There are a number of benefits offered by storm doors. We'll discuss the most prominent of these benefits below.
They Prevent Moisture Damage
Do you have a wood front door? If so, it's constantly vulnerable to moisture. Whether it's rain or snow, the elements can cause irreparable damage to your door, resulting in warping, discoloration, and other functional and cosmetic problems.
Fortunately, there is a way to prevent a great deal of the water damage that wood front doors suffer: you can install a storm door! A storm door will block the rain and snow from your front door, reducing the effects of weather, and allowing it to thrive for a longer period of time.
They Stave Off Insects
Rain and snow aren't the only elements that can cause damage to a wood front door. Insects can do quite a bit of damage as well. Whether it's carpenter ants, termites, bark beetles, or otherwise, they can slowly shred through your door until it's aesthetically damaged and functionally impaired.
However, if you have a storm door installed, you can prevent these insects from making their way to your wood door in the first place. Storm doors seal tightly upon closure, making it almost impossible for insects to access the front doors that sit behind them.
They Offer Insulation
Hoping to improve the insulative qualities of your home? If so, a storm door will be of use to you. While storm doors don't provide as much insulation as wood or fiberglass doors, they're still beneficial in preventing the inward flow of heat and cold.
Now, you shouldn't expect to see a dramatic difference in your energy bills. However, after a storm door has been installed, you'll probably notice that your front doorway is a little less drafty.
They Improve Security
Storm doors are made of glass. As such, they can be easily broken. However, it's rare for intruders to break glass when trying to get into a home.
Therefore, even though storm doors don't appear to provide much in terms of security, they do actually improve the security capabilities of your home at large. Thieves generally see them as deterrents, and often avoid houses that are equipped with them.
They Add to a Home's Aesthetic
The last benefit we're going to discuss is the benefit of improved aesthetics. Most individuals would agree that a storm door adds to a home's appearance.
There are all types of styles available, some of which are almost fully made of glass, and some of which contain portions of glass and metal. However, they all have one thing in common: they're designed to be aesthetically pleasing.
If you want to give your home an aesthetic kick, a storm door could be just the thing you need.
Install a Storm Door in Palatine Today!
Are you interested in installing a storm door? Looking to install a storm door in Palatine, Illinois? If so, Aspen Exterior is the company to call.
Our team of seasoned remodelers has installed storm doors on a number of homes throughout the Palatine area. With a variety of storm doors to choose from, we're sure to have something you'll enjoy.
Contact us now to schedule an appointment!