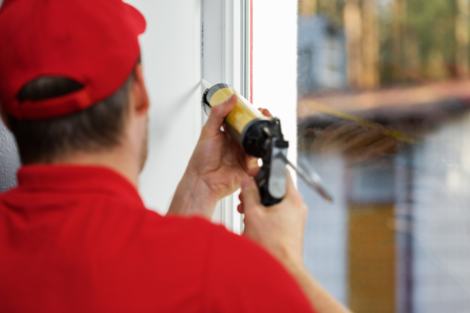 22 Jul

What Does Window Repair or New Windows Installation in Glenview Entail?

If you want to get the absolute most out of your windows, regular repair and maintenance will be necessary. This is true regardless of whether or not you have vinyl windows or wood windows.

However, while vinyl window maintenance and wood window maintenance are similar, they are not the same. The fact of the matter is that wood windows require a bit more maintenance than vinyl windows.

Wondering what exactly window maintenance in Glenview, Illinois entails for both types of windows? This article has you covered!
Wood Window Maintenance Tips
There are three primary aspects of wood window maintenance: cleaning, caulking, and staining. By engaging in maintenance on a regular basis, you can upkeep the look and functionality of your wood windows.
Cleaning
Perhaps the easiest part of wood window maintenance is cleaning. Like anything that perpetually sits outside, your wood windows will accumulate residue. To ensure that this residue does not build up to any remarkable degree, it's necessary to wipe it clean on a regular basis.
Typically, taking a wet brush or towel to your windows every few months will get the job done. In cases where residue buildup is substantial, it might be a good idea to utilize a mild detergent of some kind.
Caulking
Over time, the edges of your wood windows start to pull apart. When this happens, your windows will become vulnerable to the effects of moisture.
To ensure that moisture doesn't make its way into your windows, you will need to add caulk. First, ensure that you're using an outdoor caulk that can withstand heavy abuse. Then, apply said caulk to the areas of your windows where there are gaps or seams.
Staining
In order for your wood windows to withstand damage caused by moisture, they will need to be stained on a regular basis. Typically, a staining every 3 to 5 years will get the job done. However, the more you stain, the less you'll have to worry about warping and deterioration.
Make sure to use an exterior stain. This type of stain is designed to hold up through heavy amounts of rain and snow.
Vinyl Window Maintenance Tips
Vinyl window maintenance can be very simple. Typically, all you'll have to do is clean and lubricate your windows every once in a while.
Cleaning
Like wood windows, vinyl windows are vulnerable to residual buildup. To ensure that you keep this buildup to a minimum, you will need to give your windows regular scrub-downs.
In most cases, a wet towel or brush will be able to wipe away any existing residue. However, if the residual buildup is extreme, a detergent may be needed. To avoid extreme residual buildup, it's wise to clean your windows every month or so.
Lubrication
Every now and then, your vinyl windows can be a little difficult to open; they tend to stick and jam with age. Fortunately, there is a remedy to this: lubrication.
Window lubrication is simple. Just open the windows, clean their liner tracks, and then wipe those liner tracks down with a silicone lubricant. Do this as needed to ensure that your windows are opening smoothly at all times.
Need Help Maintaining or New Window in Glenview?
Many homeowners choose to bring in a professional to perform maintenance or new window installations on their windows. Want to utilize professional window installation services in Glenview? We here at Aspen Exterior Company are the people to see.
In business since 1978, we have served many satisfied customers throughout the Glenview, Illinois area. Our team of window specialists looks forward to working with you.
Contact us today to get started!