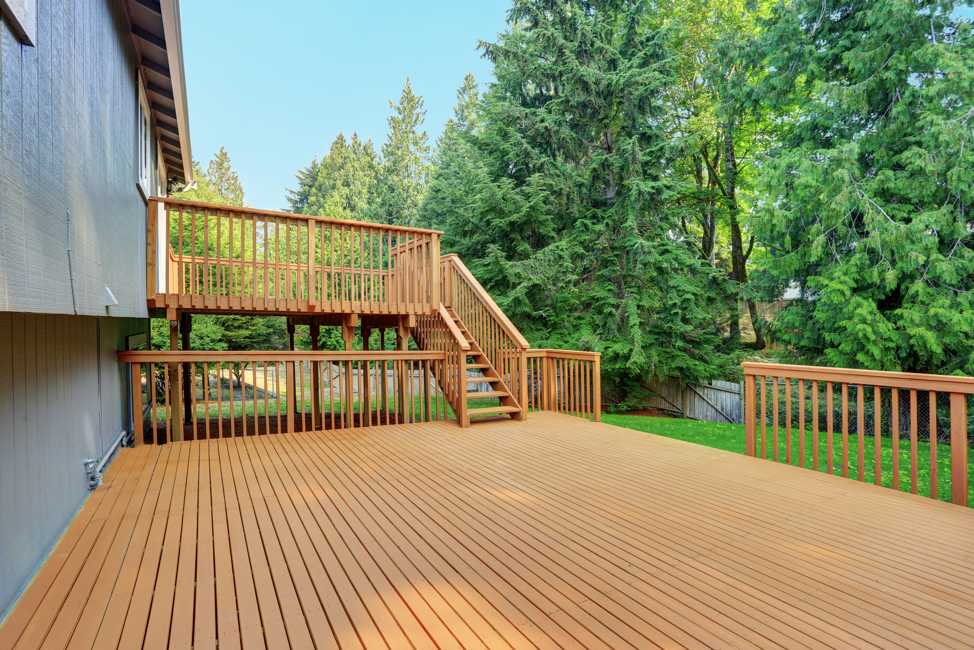 07 Oct

Looking to Upgrade Your Arlington Heights, IL Home? Consider Installing a Deck

Is the layout of your property getting a little stale? Looking for ways to spruce it up? If so, you should think about installing a deck.

House decks have a number of benefits, some of which are functional and some of which are aesthetic. Relatively inexpensive, they can go a long way in changing the identity of a residential property.

Looking to learn more about installing a deck in Arlington Heights, IL? This article has you covered.
The Benefits of Installing a Deck
There are many benefits of installing a deck. A deck offers not only aesthetic and recreational benefits, but functional benefits as well. Read below to find out what they are.
Enhanced Aesthetic
Want to elevate your property to another aesthetic level? If so, installing a deck could do just that. Decks bring a great deal of atmosphere to homes and their adjoining yards, supplying them with a high-end look that they would otherwise be without.
Because decks are often made out of wood, they can be painted or glazed to present a variety of different colors. Whether you're looking for something rustic, something crafty, or something that's just "out there", it can be achieved through a deck.
Added Storage Area
While decks are primarily seen as recreational areas, they can be far more than that. Decks provide ample storage as well. Not only can you store your possessions on the top of your deck, but in the space underneath it as well. In essence, installing a deck can be like installing a double-decker storage entity.
Your grill and patio furniture can be put on the top of your deck. Conversely, your kids' toys, your gardening tools, and other such items can be put under your deck.
Increased Home Value
The simple fact of the matter is that—all other things being equal—homes with decks have higher property values than homes without decks.
Decks are useful additions and are often sought out by prospective home buyers. It stands to reason that buyers would be willing to pay more for them.
If you're planning on selling your home within the next 5 years or so, you might want to consider adding a deck now. Not only will you get to enjoy it for a short period, but you'll also get to take advantage of its value-creating capabilities.
Pleasant Congregation Area
Sitting on the grass or in a lawn chair is all well and good. However, it's not quite the same as lounging up on a deck. Deck's make terrific congregational areas, facilitating cookouts, bonfires, and other types of social events.
Which Material Should You Use?
These days, decks tend to be made out of one of two materials: wood and composite. To give you an idea of the capabilities of each, we're going to discuss their characteristics below.
Wood
If you want that classic deck aesthetic, you should consider using wood. Wood can be stained or painted any color in existence, allowing you to personalize it to your specifications.
Functionally, wood is solid. It's tough, it's durable, and it's sturdy. The only problem with it is that it requires regular maintenance.
Composite
Composite doesn't have the rustic and charming aesthetic of wood, but it's still aesthetically pleasing in its own way. Functionally speaking, it's superior to wood, offering greater strength, greater toughness, and less maintenance.
Interested in Installing a Deck in Arlington Heights?
Are you ready to install a deck for your home? If so, and if you're looking for professional deck installation in Arlington Heights, Aspen Exterior Company has you covered.
Our team has installed a number of decks throughout Arlington Heights, working with a wide variety of materials in the process. Regardless of the material you're looking to utilize, we can accommodate you.
Contact us today to schedule an appointment!