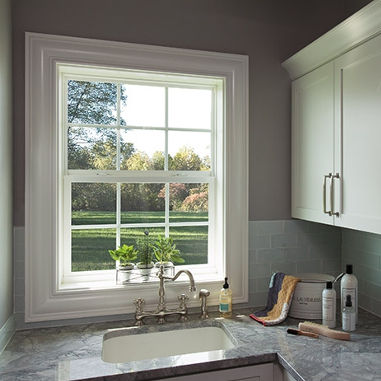 07 Jan

Single-hung Windows vs Double-hung Windows: Advice from an Evanston New Windows Company

Looking to install new windows? Not sure which type to install? If so, you should consider going with a hung window. Simple and straightforward, hung windows allow for ample visibility, sunlight, and ventilation.

There are two types of hung windows: single-hung windows and double-hung windows. Wondering how they compare against one another? This Evanston new windows company has you covered.
Visibility
In terms of visibility, single and double-hung windows are equals. Taller than they are wide, they allow for unrestricted views of the sky with minimal peripheral vision.
Both types of windows possess a visual detractor: the spot in the middle of the window where the two sashes meet. Note, however, that for most purposes, this does very little to impair vision overall.
In other words, there's no reason to be concerned about seeing out of either single or double-hung windows. Both allow for sufficient visual capabilities.
Ventilation
When it comes to ventilation, double-hung windows reign supreme. Because they possess two moveable sashes, they allow for much more open area than single-hung windows. The more open area a window allows for, the greater ventilation variation it possesses.
Now, this isn't to say that single-hung windows lack ventilation variation. Their sashes can be pushed up to their midway points, allowing for plenty (in most cases) of ventilation. It's just that double-hung windows almost double the ventilation capabilities of single-hung windows.
Functionality
Functionally speaking, single and double-hung windows are essentially equal. They contain moveable sashes that can be pushed up or down in order to allow for less or more ventilation variation. The only functional difference between the two is that, while single-hung windows only allow for one sash to be pushed, double-hung windows allow for two sashes to be pushed.
As long as these windows are properly maintained, they should be exceedingly easy to open and close. A slight flick of the wrist is generally enough to get things moving.
Curious as to how you lock them? All you have to do is flip a piece of plastic or metal, and they'll be secured.
Ease of Maintenance
One of the big differences between single-hung and double-hung windows is in their ease of maintenance. Because double-hung windows possess two moveable sashes, they allow you to access the exteriors of their panes with greater ease. This enables them to be quickly and conveniently cleaned from the interiors of their respective homes.
Single-hung windows only contain one moveable sash, which makes them much more difficult to clean from the interiors of their corresponding homes. As such, they often require that their owners go outside with a ladder in order to clean them.
Cost
Double-hung windows are more expensive than single-hung windows. This is due to the fact that they contain two moveable sashes as opposed to one moveable sash.
The average cost of a double-hung window is between $500 and $700. The average cost of single-hung windows, on the other hand, is between $150 and $400.
This is a fairly sizable difference, especially if you plan on installing more than one window. As such, before making a choice, it's best to consider whether the additional moveable sash alone is worth the cost.
Hire an Evanston New Windows and Home Remodeling Company to Install Windows in Your Home
Are you interested in installing single-hung or double-hung windows? In need of an Evanston windows company? If so, Aspen Exterior is ready to help.
Our team has installed countless windows throughout the Evanston area. Regardless of your window needs, we can accommodate you.
Contact us today to schedule an appointment!